By Thomas O. Herrick
Chief Market Strategist, Managing Director

The Beatings Will Continue Until Morale Improves

The above quote of unknown origin lends a lot of similarity to the beating risk assets have taken at the hands of the surge in long term yields. The surge could be attributed to confusing "higher for longer" Fed talk related to inflation, fear of increased issuance, or a reflection of stronger than expected GDP growth. The villain is most likely a combination of all the above. Major equity and bond averages continued to pull back during September under the weight of the steep move higher in the benchmark 10-year Treasury. For the month of October, the S&P 500 Index dropped -2.10%, while the Bloomberg US Aggregate Bond Index fell -1.58%.
Until markets get relief on the yield benchmark it will be difficult for risk assets to move sustainably higher. Right now, this is by far the macro input with the greatest market impact. On the equity side, the current 10-year yield just below 5% creates a lot of competition for stocks. One could argue that one of the best "stock" selections right now would be long duration Treasury ETFs priced at 2006 support levels. There are 2 ½% real yields and a ton of potential price upside in those securities. The post Global Financial Crisis era of TINA (there is no alternative) for equities is dead, RIP.
Our viewpoint is that while yields have clearly reversed their long-term secular downtrend and are now in a sustained uptrend, they are also well ahead of themselves in the shorter term. Keep in mind the short term in this context could be months or even years.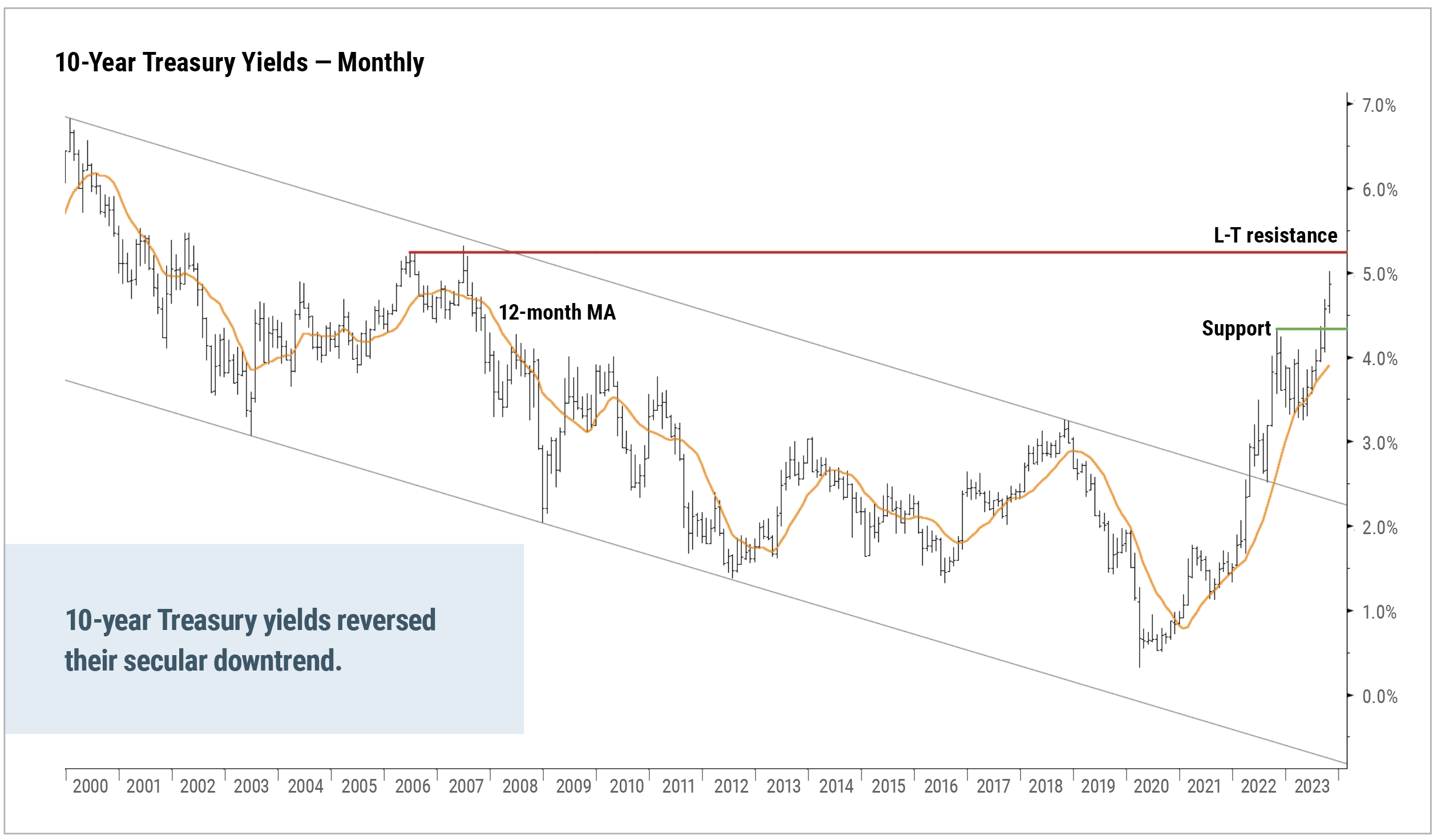 Source: Fairlead Strategies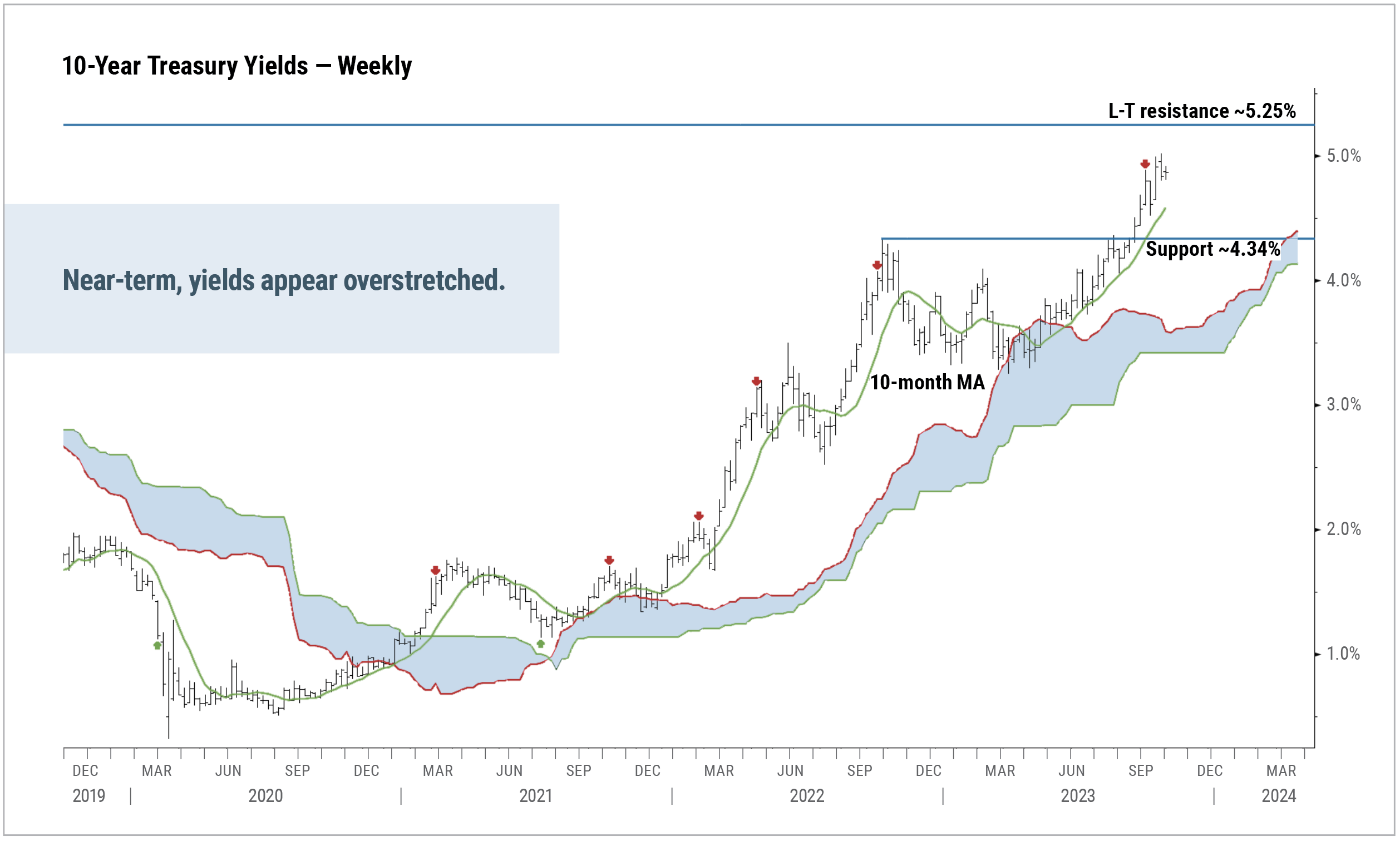 Source: Fairlead Strategies

---
Cary Street Partners is the trade name used by Cary Street Partners LLC, Member FINRA/SIPC; Cary Street Partners Investment Advisory LLC and Cary Street Partners Asset Management LLC, registered investment advisers. Registration does not imply a certain level of skill or training.
Any opinions expressed here are those of the authors, and such statements or opinions do not necessarily represent the opinions of Cary Street Partners. These are statements of judgment as of a certain date and are subject to future change without notice. Future predictions are subject to certain risks and uncertainties, which could cause actual results to differ from those currently anticipated or projected.
These materials are furnished for informational and illustrative purposes only, to provide investors with an update on financial market conditions. The source of certain market data is Bloomberg. The description of certain aspects of the market herein is a condensed summary only. Materials have been compiled from sources believed to be reliable; however, Cary Street Partners does not guarantee the accuracy or completeness of the information presented. Such information is not intended to be complete or to constitute all the information necessary to evaluate adequately the consequences of investing in any securities, financial instruments, or strategies described herein.
Cary Street Partners and its affiliates are broker-dealers and registered investment advisers and do not provide tax or legal advice; no one should act upon any tax or legal information contained herein without consulting a tax professional or an attorney.
We undertake no duty or obligation to publicly update or revise the information contained in these materials. In addition, information related to past performance, while helpful as an evaluative tool, is not necessarily indicative of future results, the achievement of which cannot be assured. You should not view the past performance of securities, or information about the market, as indicative of future results.
Nothing contained herein should be considered a solicitation to purchase or sell any specific securities or investment related services. There is no assurance that any securities discussed herein have been included in an account's portfolio, will remain in an account's portfolio at the time you receive this report, or that securities sold have not been repurchased. The securities discussed do not represent an account's entire portfolio and, in the aggregate, could represent only a small percentage of the portfolio's holdings. It should not be assumed that any of the securities transactions or holdings discussed were, or will prove to be, profitable, or that the investment recommendations or decisions made in the future will be profitable or will equal the investment performance of the securities discussed herein. A complete list of every holding's contribution to performance during the period, and the methodology of the contribution to return, is available by contacting Cary Street Partners Marketing.
CSP2023182 ©2023 CARY STREET PARTNERS, All Rights Reserved.