By Thomas O. Herrick
Chief Investment Officer, Managing Director
Most people's impression of Artificial Intelligence, commonly referred to as AI, is ChatGPT, but it's much more. ChatGPT has popularized AI conversation as it is a consumer-facing chatbot that launched last November. The widespread adoption of AI will have profound economic and societal implications. At its core, generative AI works by taking large data sets of text, code and images that it is trained on to develop new text, images, and media based on patterns learned from those data sets. Examples of AI use cases being any one of the hundreds of drugs currently under development utilizing AI.
Artificial Intelligence is perhaps the most overhyped conversation short-term, while being the most underhyped conversation long-term. This innovation has the potential to create one of those technological great leaps forward similar to the three previous industrial revolutions. The impact on global GDP could be a figure around $4.4 trillion annually, and the corresponding impact on corporate profits could be enormous. This has the potential to be a very powerful long-term trend supporting equity prices.
Widespread adoption of AI will have profound economic and societal implications.
The productivity boost inherent in technological breakthroughs such as this is hard to underestimate. Generative AI lends itself to human-facing apps and will be deployed as a "co-pilot," improving the efficiency of workers and consumers. Just a few of the ways that AI will be used in the workplace: pattern & image recognition for tumor detection; text generation and summary for sentence completion, autocorrect, and legal document summarization; data analysis and prediction for autonomous driving, and warehouse logistics. Generative AI is estimated to add more than 1% annually to productivity in the decade following its widespread usage. From an employment perspective, salary growth will be strongest as employers seek candidates with Artificial Intelligence skills.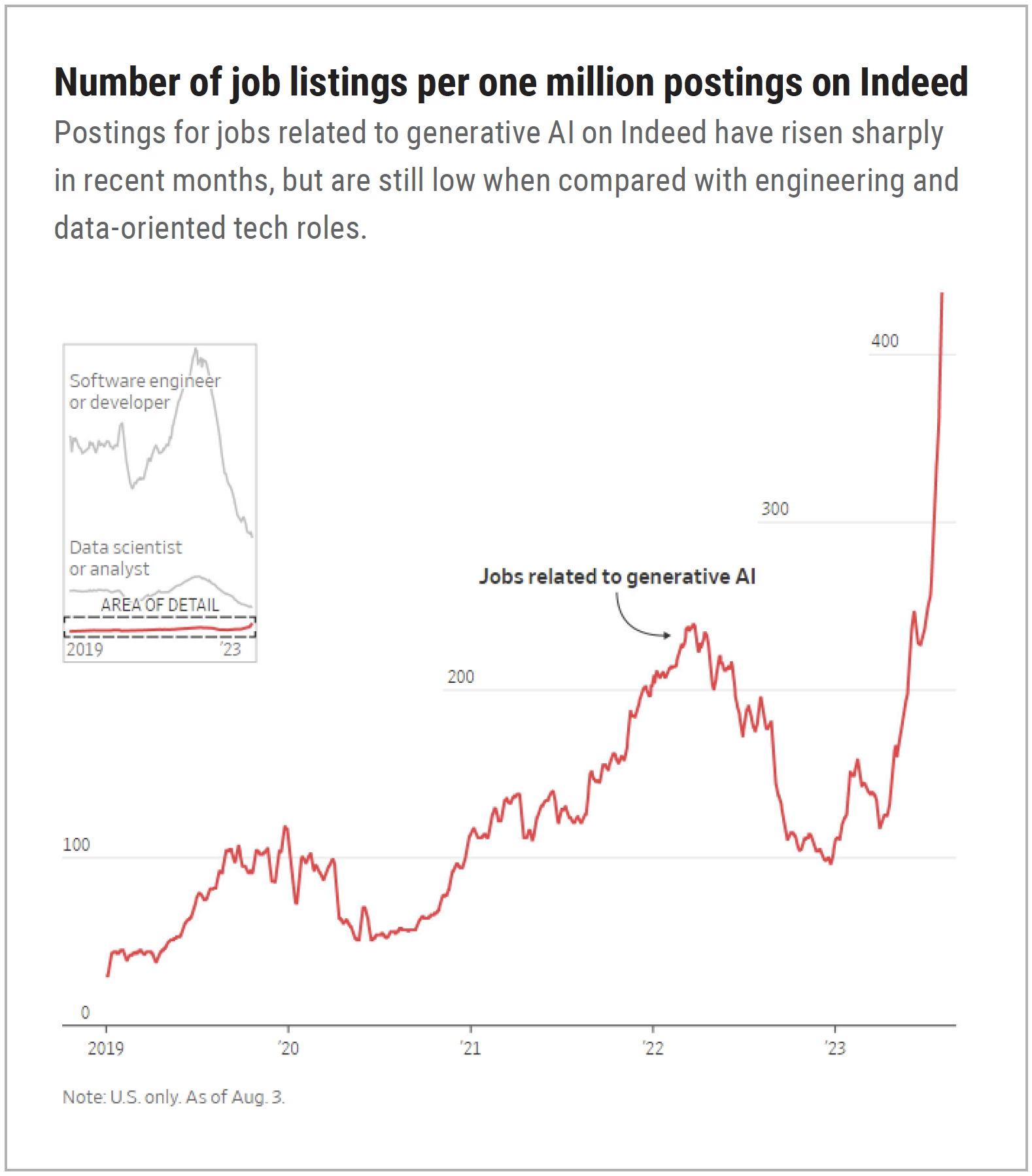 Source: The Wall Street Journal
That boost to productivity feeds directly into increased GDP at a very opportune time, given demographic challenges faced by economies ranging from the U.S. and Europe to Asia. Population growth is falling in much of the world, and that trend is going to accelerate dramatically in countries such as China and South Korea. We are very early in this dynamic, but measurable returns on investment and improvements in efficiency that early adopters have seen give us confidence that AI is a long-duration secular trend. From an industry perspective, estimates are that generative AI is likely to have its biggest impact in financial services, high tech, and life sciences as a percentage of overall industry revenue. Early winners in the chip sector, such as Nvidia, continue to see huge demand for AI-related chips. Long-term AI-related investment could peak as high as 2.5 to 4% of U.S. GDP and 1.5 to 2.5% of GDP in other major economies.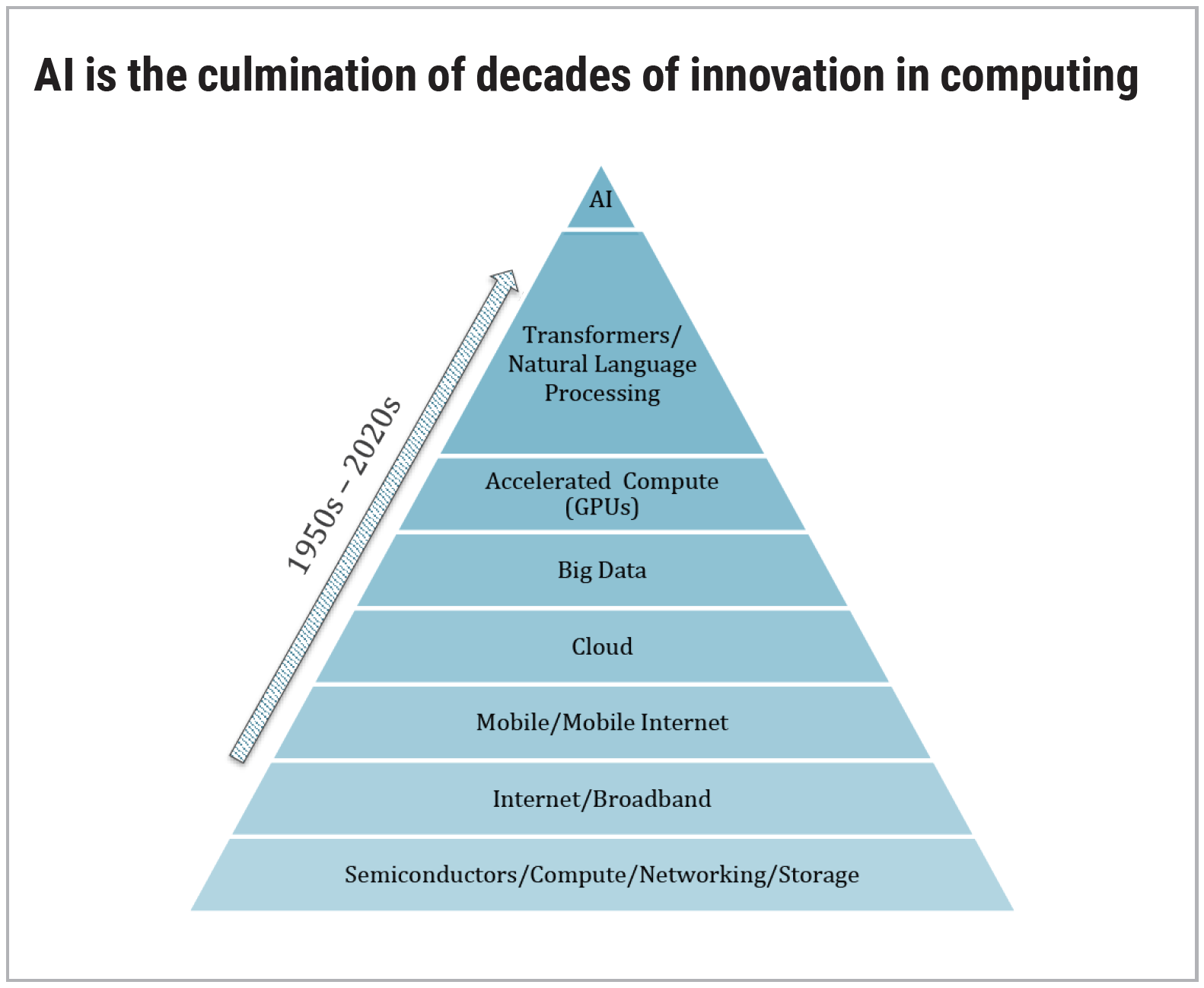 Source: Edgewood Management LLC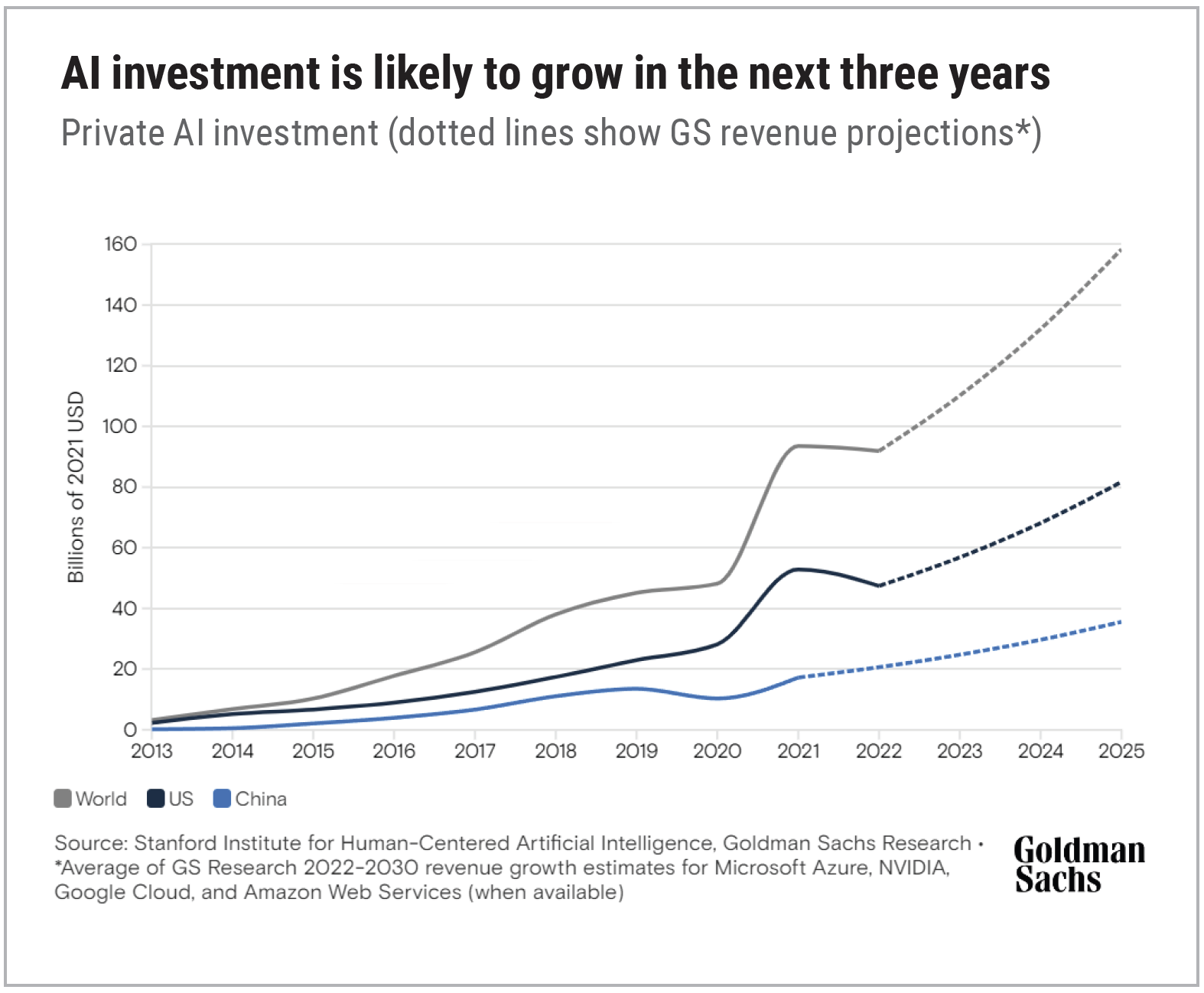 Source: Stanford Institute for Human-Centered Artificial Intelligence, Goldman Sachs Research
---
Cary Street Partners is the trade name used by Cary Street Partners LLC, Member FINRA/SIPC; Cary Street Partners Investment Advisory LLC and Cary Street Partners Asset Management LLC, registered investment advisers. Registration does not imply a certain level of skill or training.
Any opinions expressed here are those of the authors, and such statements or opinions do not necessarily represent the opinions of Cary Street Partners. These are statements of judgment as of a certain date and are subject to future change without notice. Future predictions are subject to certain risks and uncertainties, which could cause actual results to differ from those currently anticipated or projected.
These materials are furnished for informational and illustrative purposes only, to provide investors with an update on financial market conditions. The description of certain aspects of the market herein is a condensed summary only. The source of certain market data is McKinsley Global Institute and Goldman Sachs. Materials have been compiled from sources believed to be reliable; however, Cary Street Partners does not guarantee the accuracy or completeness of the information presented. Such information is not intended to be complete or to constitute all the information necessary to evaluate adequately the consequences of investing in any securities, financial instruments, or strategies described herein.
Cary Street Partners and its affiliates are broker-dealers and registered investment advisers and do not provide tax or legal advice; no one should act upon any tax or legal information contained herein without consulting a tax professional or an attorney.
We undertake no duty or obligation to publicly update or revise the information contained in these materials. In addition, information related to past performance, while helpful as an evaluative tool, is not necessarily indicative of future results, the achievement of which cannot be assured. You should not view the past performance of securities, or information about the market, as indicative of future results.
Nothing contained herein should be considered a solicitation to purchase or sell any specific securities or investment related services. There is no assurance that any securities discussed herein have been included in an account's portfolio, will remain in an account's portfolio at the time you receive this report, or that securities sold have not been repurchased. The securities discussed do not represent an account's entire portfolio and, in the aggregate, could represent only a small percentage of the portfolio's holdings. It should not be assumed that any of the securities transactions or holdings discussed were, or will prove to be, profitable, or that the investment recommendations or decisions made in the future will be profitable or will equal the investment performance of the securities discussed herein. A complete list of every holding's contribution to performance during the period, and the methodology of the contribution to return, is available by contacting Cary Street Partners Marketing.
CSP2023133 ©2023 CARY STREET PARTNERS, ALL RIGHTS RESERVED.